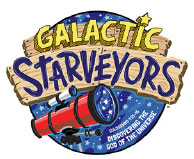 Welcome to Harmony Community's Vacation Bible School, Sunday, June 18th – Friday, June 23rd, 6:00 – 9:00pm.  This VBS is for children 3 years* – students entering 6th grade in the 2017-2018 school year. Online registration is closed but feel free to print this form and bring it with you registration at VBS.
Your child is going to have a blast…Galactic Starveyors Style—Searching the Visible & Discovering the Invisible.  VBS begins in the auditorium for the worship rally and music, then groups rotate to extremely FUN VBS themed foods, Bible lessons, crafts that WOW, & recreation.  The last night of the regular VBS schedule is Thursday.  Then, for Friday we have a very BIG surprise for your children.  The Grand Finale surprise will have to remain Top Secret for now…but children will receive clues throughout the week, and they will be absolutely thrilled with the news of all that is planned for them!
FYI: Friday will be a casual, fun time for kids and the entire family.  Food and drinks are provided, and are complimentary. You'll have a chance to meet the leaders who have spent  the week with your children, talk to adult friends, and enjoy seeing the kids have a great time.  Due to the nature of this event, at least one parent or guardian (18+ years) must accompany your child/children on Friday.  So grab your Starveyor gear and get ready to soar, as together we discover the incredible mysteries of the final frontier, Sunday – Friday, June 18th – 23rd, Galactic Starveyors VBS, 6:00 – 9:00pm at Harmony Community Church.  All children 3 years* up through students entering 6th grade in the 2017-2018 school year are welcome here.